You can now purchase upgrades. All payments are paid via BTC ONLY. To upgrade your account contact Alpha via PM. 
Superior:
PRICE: $7 BTC
---
---
Rise:
PRICE: $13 BTC
To be upgraded to RISE you first need superior! 
---
---
The highest possible upgrade to purchase on OGFLIP has now been released!
Those who upgrade to Apex will receive the following privileges,
including all Rise/Superior privileges
.

(Please note: you must be Rise to upgrade to Apex)


Animated Userbar:


Exclusive Upgrade Award:


New Username Color




Animated Username

(

I was very picky when editing this

)


3000 PM Storage




Ability to steal inactive usernames for FREE




Access to all custom plugins




Ability to +4/-4 reputation




Apex thread prefix in all sections.






Price: $20 BITCOINS ONLY.


A new automatic plugin to purchase upgrades with Bitcoin is on its way. Just waiting on the developer to get back to me. 

EXAMPLE: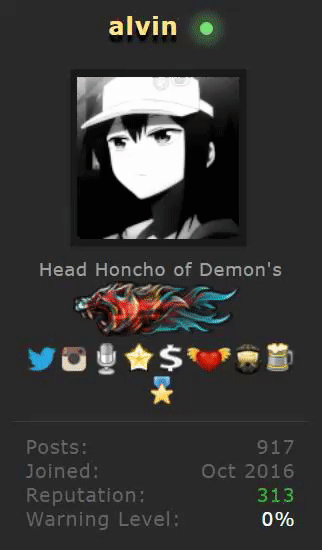 TOS:


No refunds.
Must be Rise to purchase Apex.
Upgrades are lifetime.


Abuse of your account or failure to follow site policies can result in the closing of your account. There are no refunds. Site accounts are not transferable and cannot be shared. We reserve the right to close any account for any reason without notice.





If you're interested, please contact Alpha via PM.